Posted June 11, 2014 by Esslinger Staff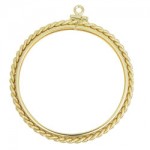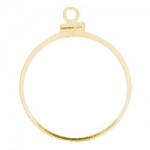 We invite you to use this reference chart to determine the correct size coin bezel you are in need of. Within the chart we list all of the coin bezel sizes we stock or are able to supply by special order. Sizes listed on the chart that say "Special Order" are considered non returnable. Unfortunately we are unable to supply any sizes not listed on the below chart. All coin bezels shown are available in metal choices of Sterling Silver, Yellow Gold Filled or 14K Yellow Gold with either a coin edge (grooved edge like a coin) or a rope edge. Each bezel has a screw top style closure, your collectors coins will be easy to mount with the use of a small jewelers screwdriver.
If you need help learning how to properly measure a coin bezel please click here.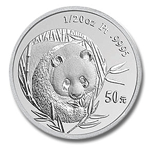 ESSLINGER ITEM #
COIN DESCRIPTION

/

NAME
COUNTRY OF ORIGIN
MM SIZE    DIAMETER & THICKNESS
66-017
$20 MINI-SMALL
AMERICAN
 9.09 X .78
66-708
MAXIMILIAN
MEXICAN
10.00 X .53

*Special Order
2.5 GRAM GOLD BAR (NEW)
CREDIT SUISSE
11.56 X 19.05 X .89

*Special Order
2 GRAM
CREDIT SUISSE
11.63 X  19.13 X .58
66-701
2 PESO GOLD
MEXICAN
13.00 X 1.02
66-502
2.5 GRAM GOLD BAR
CREDIT SUISSE
13.00 X 22.00 X.75

66-018
13 MM GOLD DOLLAR
AMERICAN
13.08 X 1.02

*Special Order
1/20 OZ KANGAROO
AUSTRALIAN
13.91 X .81
66-401
1/20 OZ GOLD PANDA
CHINESE
13.94 X 1.14

*Special Order
1/25 OZ CAT
ISLE OF MAN
13.97 X .66
66-503
5 GRAM
CREDIT SUISSE
14.00 X 23.50 X 1.30

*Special Order
1/20 OZ MAPLE LEAF
CANADIAN
14.15 X .79
66-019
14 MM GOLD DOLLAR
AMERICAN
14.20 X .76

66-020
15 MM GOLD DOLLAR
AMERICAN
15.00 X .76

66-501
1 GRAM GOLD PANDA BAR
CHINESE
15.14 X 8.61 X .76

*Special Order
HALF DIME
AMERICAN
15.37 X .81

66-504
10 GRAM GOLD BAR
CREDIT SUISSE
15.50 X 25.50 X 1.40
66-702
2.5 GOLD PESO
MEXICAN
15.60 X .86

*Special Order
1/10 OZ KANGAROO
AUSTRALIAN
15.95 X 1.22

*Special Order
THREE PENCE
AUSTRALIAN
16.00 X .94

*Special Order
1/10 OZ NUGGET
AUSTRALIAN
16.05 X 1.14
66-301
1/10 OZ GOLD MAPLE LEAF
CANADIAN
16.05 X 1.14

*Special Order
1/10 OZ PHILHARMONIC
AUSTRIAN
16.05 X 1.14
66-451
ONE CENT EURO
EURO
16.20 X1.60

66-801
1/10 OZ GOLD KRUGERRAND
SOUTH AFRICAN
16.46 X 1.19
66-023
1/10 OZ GOLD EAGLE $5
AMERICAN
16.51 X 1.27

66-008
$2.50 INDIAN
AMERICAN
17.78 X 1.14

*Special Order
3 EIRE
OTHER COINS
17.81 X 1.78

*Special Order
1/10 OZ CAT
ISLE OF MAN
17.96 X .94
66-402
1/10 OZ GOLD PANDA
CHINESE
17.96 X 1.02
66-009
$2.50 GOLD LIBERTY
AMERICAN
17.98 X 1.27

66-003
DIME
AMERICAN
18.00 X 1.20

*Special Order
2 GRAM PANDA BAR
CHINESE
18.24 X 11.35 X .79

*Special Order
5 RUBLE
OTHER COINS
18.57 X 1.14
66-452
TWO CENT EURO
EURO
18.70 X 1.70
66-703
5 PESO GOLD
MEXICAN
19.05 X 1.14

*Special Order
10 CORONA
AUSTRIAN
19.08 X .25

66-001
ONE CENT
AMERICAN
19.10 X 1.50
66-601
1/2 SOVEREIGN GOLD
ENGLISH
19.22 X .99

*Special Order
SIX PENCE
AUSTRALIAN
19.38 X 1.27
66-805
1 RAND
SOUTH AFRICAN
19.43 X 1.09

*Special Order
10 MARK
RUSSIAN
19.53 X .91
66-454
10 CENT EURO
EURO
19.75 X 1.93
66-302
1/4 OZ GOLD MAPLE LEAF
CANADIAN
20.0 X 1.70

*Special Order
1/4 OZ NUGGET
AUSTRALIAN
19.99 X 1.65

*Special Order
1/4 OZ KANGAROO
AUSTRALIAN
19.99 X 1.78
66-201
1 DUCAT GOLD
AUSTRIAN
20.01  X .80

*Special Order
50 MARK
RUSSIAN
20.04 X 1.63

*Special Order
1/4 OZ KOALA
AUSTRALIAN
20.04 X 1.63

*Special Order
FARTHING
ENGLISH
20.29X1.60

*Special Order
$2.00 AUSTRALIAN
AUSTRALIAN
20.39 X 2.82
66-010
$3.00 GOLD LIBERTY "INDIAN PRINCESS"
AMERICAN
20.5 X 1.4

*Special Order
8 FLORIN 20 FRANC
AUSTRIAN
20.96 X 1.40
66-002
NICKEL
AMERICAN
21.10 X 1.95
66-203
20 CORONA (CROWN)
AUSTRIAN
21.13 X 1.32
66-453
FIVE CENT EURO
EURO
21.20 X 1.60
66-012
$5.00 GOLD INDIAN
AMERICAN
21.59 X 1.40
66-011
$5.00 GOLD LIBERTY
AMERICAN
21.59 X 1.59

*Special Order
$5.00 STATUE OF LIBERTY
AMERICAN
21.64 X 1.73

*Special Order
$5.00 CONSTITUTION
AMERICAN
21.64 X 1.85

66-398
1/4 OZ PANDA
CHINESE
21.94 X 2.05

*Special Order
1/5 OZ CAT
ISLE OF MAN
21.97 X 1.30

66-802
1/4 OZ GOLD KRUGERRAND
SOUTH AFRICAN
22.00 X 1.83
66-403
2001 & UP 1/4 OZ PANDA
CHINESE
22.02 X 1.22
66-602
1 SOVEREIGN
ENGLISH
22.02 X 1.52
66-806
2 RAND
SOUTH AFRICAN
22.02 X 1.57
66-024
1/4 OZ GOLD EAGLE $10
AMERICAN
22.02 X 1.65

*Special Order
1/4 OZ PHILHARMONIC
AUSTRIAN
22.15 X 1.27
66-455
20 CENT EURO
EURO
22.20 X 2.10
66-605
1 POUND
ENGLISH
22.47 X 3.17
66-704
10 PESO (GOLD)
MEXICAN
22.50 X 1.40

*Special Order
$5.00 CLASSIC
AMERICAN
22.54 X 1.57

*Special Order
10 RUBLE
OTHER COINS
22.55 X 1.68

*Special Order
20 MARK
RUSSIAN
22.66 X 1.44
66-709
1/4 OZ GOLD MEXICAN LIBERTAD
MEXICAN
22.99 X 1.68
66-457
ONE EURO
EURO
23.30 X 2.30

66-608
1 SHILLING
ENGLISH
23.57 X 1.73

*Special Order
200 LIRA
ITALIAN
23.88 X 1.65

*Special Order
SCHILLING
AUSTRALIAN
23.89 X 2.29

*Special Order
ENGELHARD 1/4 OZ PROSPECTOR
AMERICAN
23.90 X 1.98
66-508
1 OZ GOLD BAR
CREDIT SUISSE
24.00 X 41.00 X 2.25
66-004
QUARTER
AMERICAN
24.10 X 1.70
66-456
50 CENT EURO
EURO
24.20 X 2.30

*Special Order
1/2 OZ KOALA
AUSTRALIAN
24.94 X 1.98

*Special Order
1/2 OZ NUGGET
AUSTRALIAN
24.99 X 2.00
66-303
1/2 OZ GOLD MAPLE LEAF
CANADIAN
25.12 X 2.24

*Special Order
1/2 OZ KANGAROO
AUSTRALIAN
25.22 X 2.29

66-606
1/2 PENNY
ENGLISH
25.40 X 1.52

*Special Order
1/2 EIRE
OTHER COINS
25.50 X 1.65
66-458
TWO EURO
EURO
25.70 X 2.10
66-900
500 LIRA
ITALIAN
25.78 X 1.93
66-007
SUSAN B. ANTHONY
AMERICAN
26.44 X 1.78
66-307
$1.00 LOON *2003 & UP
CANADIAN
26.44 X 1.95
66-910
SACAGAWEA GOLDEN $1 OR PRESIDENTIAL $1 2007 &
UP
AMERICAN
26.5 X 2.00
66-014
$10.00 GOLD INDIAN
AMERICAN
26.91 X 2.03
66-013
$10.00 LIBERTY
AMERICAN
26.99 X 2.03
66-025
1/2 OZ. GOLD EAGLE $25
AMERICAN
27.00 X 2.18
66-803
1/2 OZ GOLD KRUGERRAND
SOUTH AFRICAN
27.00 X 2.24

*Special Order
MARION ANDERSON
AMERICAN
27.02 X 2.00

*Special Order
1000 LIRA
ITALIAN
27.25 X 2.11
66-705
20 GOLD PESO
MEXICAN
27.43 X 2.03

66-712
10 PESO BI-METAL
MEXICAN
28.02 X 2.28

*Special Order
1/2 OZ PHILHARMONIC
AUSTRIAN
28.04 X 1.75

*Special Order
1 FLORIN
AUSTRIAN
28.45 X 2.29

66-604
2 LB
ENGLISH
28.45 X 2.54
66-710
1/2 OZ MEXICAN GOLD LIBERTAD
MEXICAN
28.96 X 2.03

*Special Order
5 MARK
RUSSIAN
29.03 X 2.08
66-304
1 OZ GOLD MAPLE LEAF
CANADIAN
30.00 X 2.79

*Special Order
1/2 OZ CAT
ISLE OF MAN
30.02 X 1.80

*Special Order
ENGELHARD 1/2 OZ PROSPECTOR
AMERICAN
30.23 X 2.49
66-005
HALF DOLLAR
AMERICAN
30.50 X 2.10

66-021
HALF DOLLAR STATUE OF LIBERTY
AMERICAN
30.61 X 2.18

*Special Order
PENNY
AUSTRIAN
30.73 X 2.16

*Special Order
PENNY
ENGLISH
30.86 X 1.57

*Special Order
1 EIRE
OTHER COINS
30.96 X 1.75

*Special Order
PENNY
AUSTRALIAN
31.06 X 2.49

*Special Order
1 OZ KANGAROO
AUSTRALIAN
31.99 X 2.64

*Special Order
1 OZ KOALA
AUSTRALIAN
32.00 X 2.34

*Special Order
1 OZ NUGGET
AUSTRALIAN
32.00 X 2.46

*Special Order
1 OZ CAT
ISLE OF MAN
32.44 X 2.41
66-026
1 OZ EAGLE $50
AMERICAN
32.69 X 2.84
66-804
1 OZ GOLD KRUGERRAND
SOUTH AFRICAN
32.77 X 2.72
66-015
$20.00 GOLD
AMERICAN
34.30 X 2.41
66-711
1 OZ GOLD LIBERTAD
MEXICAN
34.54 X 2.55

*Special Order
1 OUNCE (LIBERTAD)
MEXICAN
35.99 X 3.53

66-305
LARGE SILVER DOLLAR
CANADIAN
36.00 X 2.80

*Special Order
1 OZ PHILHARMONIC
AUSTRIAN
37.03 X 1.91
66-204
100 CORONA
AUSTRIAN
37.08 X 2.29
66-706
50 GOLD PESO
MEXICAN
37.08 X 2.76


66-298
1 OZ SILVER MAPLE LEAF
CANADIAN
37.97 X 3.18
66-022
$1 EISENHOWER OR SILVER LIBERTY HEAD PEACE DOLLAR
AMERICAN
38.10 X 2.80
66-006
MORGAN
SILVER DOLLAR
AMERICAN
38.10 X 2.80

*Special Order
$1.00 US CONSTITUTION
AMERICAN
38.20 X 2.80
66-603
CHURCHILL DOLLAR
ENGLISH
38.50 X 3.00

*Special Order
ENGELHARD 1 OZ PROSPECTOR
AMERICAN
38.71 X 3.05
66-707
100 SILVER PESO (1977-1979)
MEXICAN
39.07 x 2.86

66-029
1 OZ SILVERTOWNE
AMERICAN
39.37 X 3.14
66-202
4 DUCAT
AUSTRIAN
39.55 X .76

66-714
5 PESO SILVER (LARGE)
MEXICAN
40.00 X 2.92
66-027
1 OZ SILVER EAGLE
AMERICAN
40.60 X 3.05
Coin bezel size chart PDF
Click Here to See Our Coin Bezel Selection