For years, China has been known for their small, costume-jewelry style freshwater pearls. And now they're making waves in the jewelry industry with large, jewelry quality pearls that are making pearl jewelry affordable for middle class America.
They've taken former rice fields, and converted them into pearl farms that produce half inch white pearls, drawing prices down and entering competition with the more expensive Tahitian pearls. For example:
"A Chinese half-inch pearl now sells for $4 to $8 at wholesale, which is typically less than half of the retail price. A Tahitian pearl of similar size sells at wholesale for $25 to $35.

The price gap reflects lingering differences in hue and luster. It does not take a jeweler to discern those differences when Chinese pearls are placed next to saltwater pearls."
While there is still a difference between freshwater and saltwater pearl quality, China's freshwater pearls are still lovely on their own. And they are making pearls affordable, for example: a strand of Tahitian pearls without a clasp clocks in around $14,000 at wholesale pricing (retail is 2 to 3 times more expensive) while a strand of Chinese pearls without a clasp clocks in around $1,800 at wholesale pricing.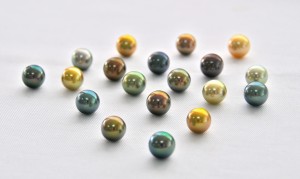 But the Chinese pearl farmers have another secret up their sleeves: the Edison pearl. These pearls are natural pearls that come in vivid pinks, purples, and bronzes that are usually only found in dyed pearls. Coming in sizes up to three-quarters of an inch, these Edison pearls could shake up the pearl jewelry industry even more in the near future, and they're definitely something to watch for.
While China has made pearl jewelry more affordable for Americans, it has also raised the quality of life for those living and working in pearl farming communities. Workers are earning higher wages and changing the way work is done in the pearl farms: companies are turning to automation more and more to save production costs, and to make up for the diminishing supply of pearl sorters. For example, Mr. Qiu a researcher at the Grace pearl company is experimenting with technology:
"Mr. Qiu showed off experimental armoire-sized sorting machines that he had designed. Each machine drops a pearl every few seconds and photographs it from several different directions as it falls. The machine instantly evaluates the photos, then catches the pearl and assigns it a trough to roll into a bin of similar pearls."
To read more about how China is changing the pearl industry, check out this New York Times article.