Love

gemstones

? Want to know where you can find a grand collection of birthstones? Head to the San Diego International Airport!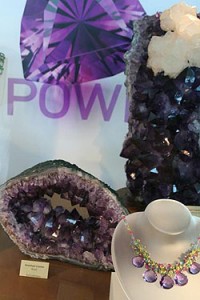 The Gemological Institute of America is hosting an appreciation of birthstones with the Airport Authority from September to February 20th, 2012. The "GIA Celebrates Birthstones" exhibit contains minerals, gemstones, and jewelry from all over the world for jewelry enthusiasts to share their love of the beauty of nature and jewelry.
According to GIA the exhibit will feature "lavish displays showcasing birthstones for each month of the year, as well as an enormous 22,000-carat faceted quartz and a replica of the jeweled Victoria's Secret Bra." For anyone with an appreciation for gemstones, this is one exhibit you can't afford to miss. It was designed to appeal to travelers from all across the globe, making birthstones a natural choice for a theme since everyone has one.
You might be wondering, why host a gem show at an airport? The San Diego International Airport began their Art Program in 2006 which they designed to "engage travelers in innovative, memorable and considerate experiences, creating an ambiance unique to San Diego and welcoming people to the airport and region." This year's gemstone exhibit will also feature rotating exhibits and performing art shows.