Back then: The history of Mullett-Hoover family business dates back to 1926, when Frank Mullett, Korry and Brad's grandfather, opened a watch repair store in Provo, Utah. Frank ran the store for more than 40 years, but in the early 1950's he started to lose his hearing. Sales were also dropping off at the same time. And, after exhausting all options to keep the store going on his own, Frank handed the keys to his son Herb Hoover (Korry and Brad's father), and told him, "I'm ready to close the store, but you're welcome to give it a go." That was more than 60 years ago.
One of Herb's biggest contributions to the family business was to add engraving to the mix of services the store provided. He also added lines of clocks, Howard Miller being one of the store's leading brands. In the early 1970's, Herb brought his sons Brad and later Korry in to the family business.
What's happening now: Over the years Herb, and later Korry and Brad, invested in the latest engraving technologies, such as laser and high-speed engravers, to enhance their store's range of services. And, since the 1970's, when the two brothers joined the family business, more finished jewelry lines have been added, bringing a wider range of product offerings to customers. The store's most lucrative profit center is engraving services that include a host of out-of-market customers, not only statewide but across the country
What we do: Watch and clock repair, jewelry repair, finished jewelry set with diamonds and colored stones as well as 14 karat gold chains, and engraving services.
What we're really good at: Watch, clock, and jewelry repairs. Engraving services for personal and corporate accounts for the local market, with accounts state-wide and across the country.
It could only happen here: "Many years ago, when my grandfather managed the family business, there was an antique safe that came with the store. In a small, concealed compartment in the safe were tear gas bottles they never bothered taking out of there. According to my grandfather, some time in the 1940's, an employee bumped in to the safe, knocking one of those teargas bottles over and breaking it open. He got everyone out in time, but it took days of airing out the store to get the gas and the smell out." – Korry Mullett-Hoover
Most memorable custom engraving jobs: A transfer case on an old Harley-Davidson motorcycle and a V-8 engine valve cover for a customer's restored muscle car.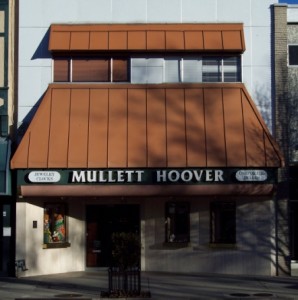 Contact Information:
Korry Mullett-Hoover, president
Brad Mullett-Hoover, vice president
Address: 184 W. Center Street
Provo, Utah 84601
Tel.: 801-373-5270; 800-303-5270
Fax: 801-373-5272
E-mail: sales@mulletthoover.com