What makes us so sure, when people are continually predicting the demise of the time-keeping device thanks to smartphones and other technology? Industry innovations combined with recent consumer trends give us hope:
Everywhere you look, you see watchmakers and companies stepping up to the challenge of technology. Tag Heuer is answering the call of technology with their LINK smartphone.
But watchmakers aren't just changing to become smartphone designers, they're innovating and making something entirely different: the smart watch.
Enter the WIMM Wearable Platform. Designed by WIMM Labs and iPhone manufacturer Foxxconn, this Android-powered module is the beginning of the "micro app". The WIMM is intended to be an integral part of our technology world, a tiny screen you use many times a day for various sort of information delivered in small pieces.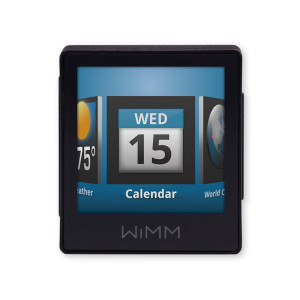 The platform will be able to run multiple micro apps at once, allowing you to use it to tell time, deliver weather updates, become a remote control for your camera, and a plethora of more apps. The 1″ x 1″ interface is a versatile touchscreen, and the internal board comes with features like wi-fi, bluetooth 2.1 EDR, GPS, an accelerometer, magnetometer, vibrator, speaker, and up to 32GB of microSD memory.
With so many capabilities the usefulness of the WIMM is nearly limitless, especially when you stop to realize that the screen is transflective TFT. But what does that mean? To sum it up, when the apps aren't being used, the screen goes into passive mode, removing the back lighting/touchscreen features and becoming a regular watch interface. When the apps are in use, the back light and the touchscreen become active, allowing you to use all the cool features with a long battery life.
To learn more about the WIMM platform and it's many features, check out this article.
And if even that wasn't enough to give you hope for the watch industry, you could always just look at the numbers.
According to this New York Times article, young people are rediscovering watches. And it sounds like watches might just be the new status symbol of wealth and good taste. Take a look at the evidence:
"After plunging 35 percent in 2008, and another 13 percent in 2009, sales of moderately priced watches (between $150 and $1,000) have rebounded and are up 15 percent for the last three months, compared with the same period last year, according to Fred Levin, the president of LGI Network, a market research company that tracks the industry.
Luxury watches are faring even better. Sales of timepieces priced between $10,000 and $25,000 — Ferraris of the forearm — are up 33 percent.

The Swatch Group, the largest watchmaker in the world, is scrambling to add factory capacity after net profits rose 42 percent last year (the company, which owns Omega, Longines and a more than a dozen other brands besides Swatch, is also a dominant supplier of movements for other brands). Fossil Inc., which manufactures a jaunty mall-friendly line of watches under the Fossil brand, as well as licensed watches for design labels like Burberry and DKNY, saw its global watch sales shoot up 44.4 percent in the first quarter, after sliding 1.8 percent as recently as 2009."
How's that for some good news?  To read more about watches & jewelry, check out the rest of our blog.