Posted January 21, 2016 by Esslinger Staff
An incredible amount of engineering goes into the making of Watch Parts for any luxury watch and amongst them, a watch with a tourbillon is considered to be at the pinnacle of watch engineering. A tourbillon is a complication which provides accuracy to a watch by eliminating the effects of gravity on timekeeping. So, a tourbillon does this by spinning the escapement 360°every 60 seconds and thus minimizing the impact of its own weight and orientation on timekeeping. There are quite a few tourbillon technologies out there and each one is unique.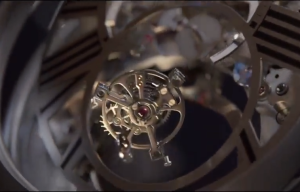 A tourbillon is difficult to make and only a few horologists in the world can accomplish it. Amongst all, the Flying tourbillon is one of the most difficult complication – a cantilevered watch part that spins one rotation every minute for decades together is really, really difficult. Cartier showcased its rare flying complication in its new video. Needless to say, it is fascinating.