What do you get when you combine precious gemstones with lingerie? The Victoria's Secret's annual diamond Fantasy Bra, or the sign of ultimate luxury.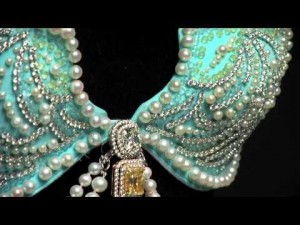 The luxury lingerie brand created their first fantasy bra in 1996, and have been creating one gem encrusted masterpiece every year since. This year's Fantasy Bra is quite a stunner: it features 3,400 diamonds, pearls, citrines, and aquamarines that were hand-stitched to the push-up bra and took more than 500 hours to complete. It also has a tassel centerpiece with two 8-carat white diamonds and two yellow 14-carat diamonds. And the price tag for this stunning piece of lingerie? Only $2.5 million.
This year's Fantasy Bra is by no means the most expensive bra Victoria's Secret has ever designed: the most expensive one was the Fantasy Bra of 2000 that clocked in at a cool $15 million. To find out more about the most expensive Fantasy Bras, and the originals check out this blog.
For a look at past Victoria's Secret Fantasy Bras check out this video:

Would you wear a bra with more than $1 million? Would you buy a bra worth more than $1 million?