Sometimes your watch crystal will get scratched or damaged and need to be replaced. With this guide from Esslinger.com you can learn how to measure your existing crystal to find the correct size replacement.
Tools Needed:
A Notebook
A Flat Working Surface
Step 1
Lay the watch out flat on your work surface so that the watch crystal is facing up to the ceiling.
Step 2
Next take your digital gauge and open the jaws wide enough to reach past both edges of the watch crystal. Hold it over the watch crystal. Slowly close the jaws around the crystal so that the tips of the jaws are recording the distance from the twelve o'clock position to the six o'clock position. Make sure that you are measuring the bottom edge of the crystal as close to the metal bezel around it as you can get. Note the first measurement.
Be aware that your crystal might be slightly worn down or angled from wear and tear and consider adjusting your measurement to add a tenth of a millimeter to the measurement to account for this.
With a round crystal, you will need to take another measurement to guarantee that you have found the correct diameter.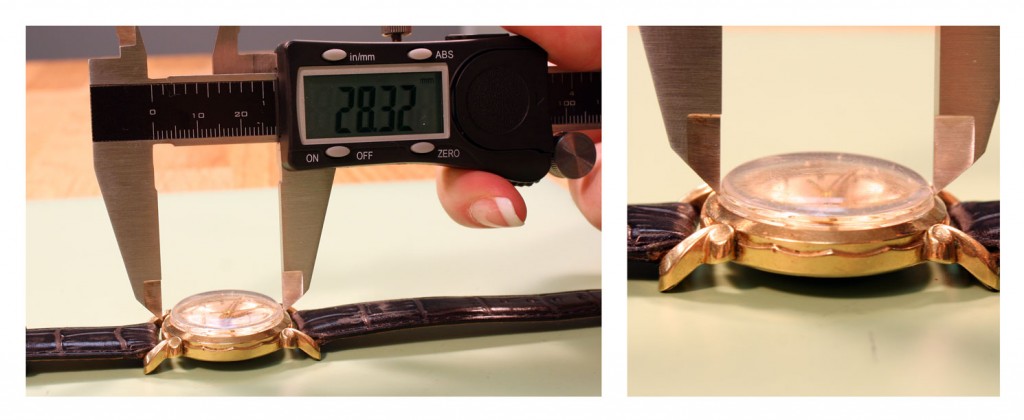 Step 3
Turn the watch case around. Open the jaws of your digital gauge wide again and slowly close them around the crystal, this time measuring from the three o'clock position to the nine o'clock position on the dial. This measurement should match the first measurement you recorded.
Step 4
Finally, you must estimate the thickness of your watch crystal. Pick up the watch case and hold it horizontally in your hand. Take your digital gauge and line up one jaw with the top of the metal of the watch case. Close the jaws so that you can estimate the height of the crystal where it rises above the metal case.
Be sure to make a note at this point if your crystal is dramatically domed.
Finished
Once you have these measurements in hand, you can order a new crystal. To learn how to fit a crystal into your watch case, you can check out our Learning Center today.
---