While gold prices are sky rocketing creating a great market for consumer's wanting to sell their old gold for cash, the soaring gold prices are also making gold jewelry more and more expensive. So, what can jewelers do to continue to create beautiful jewelry designs that their customers can afford? It sounds like a good time to turn to silver.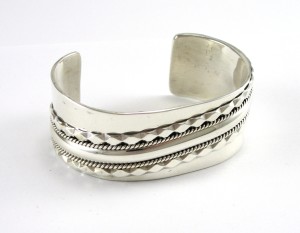 Silver has slowly been growing in popularity throughout this economic atmosphere, and as gold prices come even closer to surpassing the price of platinum, consumers are looking for jewelry that is both beautiful and affordable.
That's not to say that people who favor yellow tone metals will completely drop gold altogether, but for those who favor white tone metals, silver is earning an ever larger market share. Especially since silver prices have been hovering consistently around $35-$40.
Silver is now making appearances on the red carpets, fine jewelry stores, and there is even bridal lines. As times have become tougher, consumers have gravitated silver because it is a beautiful and relatively inexpensive metal compared to its siblings gold, platinum, and palladium.
Next time you sit down at your design bench, consider designing in silver to create high quality and affordable options for your customers who are looking for something that won't break the bank.
Read more about the silver trend here.