LEARN HOW TO CLOSE WATCH BACKS
WITH THIS EASY TO FOLLOW GUIDE
Now you have your watch open and have made the necessary watch repair or service – how do you make sure that you securely close the back again? All while avoiding damaging the watch when closing it, and ensuring that you have a good tight and even waterproof seal? In this guide we will tell you just what you need to do to close different types of watch backs.
REMEMBER:
Just like we said about opening watch cases, if at any point you are at all unsure of something you need to do to close a watch case, you should leave the work to a watchmaker. Most of all, we encourage you to keep an open mind and use common sense before attempting to fix your watch on your own, if you don't think you can do it, don't be afraid of taking it to a professional.
How to close the 3 most common types of case backs: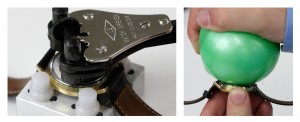 #1) A screw off watch back will have notches for around the edges of the back of the watch. Just like there are three different methods for opening a screw off watch case back, there are also three different ways to close them again using the following handy tools. For more information on how to close a screw off watch back check out these articles.
How to Close a Screw Down Case Back with Jaxa Wrench
How to Close a Screw Down Case Back with a Case Opener Ball
How to Close a Screw Down Case Back with a Case Wrench
Use extreme care in pressure closing any type of watch using a watch press because they are easily bent out of shape and damaged. A watch press can emit enormous pressure on a small surface so work carefully on any watch because the damage of bending a watch case or watch bezel is many times un-repairable.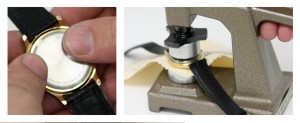 #2) A snap off or pressure fit watch back will have an entirely smooth back, and it should still be plain and smooth on the back when you're finished. The second type of watch case back is the pressure type. Many watches with this type have a small dent or notch on the side or between the lugs where you can place your knife.
The best way to close a pressure fit watch back is to use your hands and apply pressure that way to close the watch. However, you cannot always close a snap off case back with your hands and you will need the help of a watch press.
How to Close a Snap Off Case Back
How to Close a Snap Off Watch Back with a Watch Press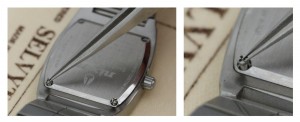 #3) A 4 screws watch case back will have a smooth back that is held in place with four, or more, screws. Watches with backs that are held on with screws can come with any wide variety of bands and cases from metal to rubber and more. Be aware that you may have to remove the watch band to deal with watch cases like this. Click here to learn How to Close a Case Back with Screws.
 How to Close a Case Back with Screws