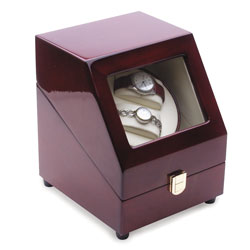 The first step to identifying the best watch winder is to identify the person that is going to use it. Is he/she old, is he/she active, does she/he have one or many watches to wind, why does she/he want a watch winder?
Most watches winders on the market really don't wind watches, they just keep them working. A good winder should not stop. If the person is one that only uses the watch occasionally any winder would do,
We would like to suggest the Single Mahogany Watch Winder. Since the watch will be just another piece of jewelry in /his/her collection, this winder will keep the watch working, but it will not fully wind the reserve of the watch.
The same goes for the Basic Single Watch Winder and the Modern Style Single Watch Winder, which we suggest for a customer on a budget.
For the same type of customer that owns multiple watches, the option is obvious, the Mahogany Double Watch Winder. Both the Single Mahogany Watch Winder. and : Mahogany Double Watch Winder would be our choice as a gift for the person that has everything because of the beautiful finish and unsurpassed craftsmanship. Both have battery back up.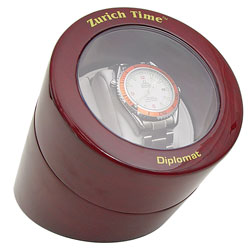 This next item the Single Cherry Watch Winder combines a professional watchmaker winder that can be set on any watchmakers bench with the finish of a luxury winder. This winder would be the first choice for those particular customers who desire nothing short of perfection. This is a real watch winder, a couple of hours would fully wind any watch and keep it working. It doesn't have a battery backup simply because it doesn't need it. Any watch in good working condition would work at least 36 hours, though some watch manufacturers claim that their watches would work up to 56 hours.
Why is it good to run the watch winder in both directions? If the winder is run in only one direction, the wear and tear of the watches automatic mechanism would be only one sided.