If you need to make your metal watch band a little longer, but you don't have any links to add to it, you can always try adding a buckle extender. Use this guide to learn how to install a bracelet extender with a fold over link clasp to your link style watch bands and bracelets.
You should use a bracelet extender with a fold over link clasp like this one when you need to expand the closed length of the band for it to fit comfortably around your wrist. But you either cannot add more links to the band or don't have the links to add. This extender works with most fold over clasps.

Tools Needed:
Step 1
Before you can add a buckle extender, you must first open the watch band at the clasp if it isn't already opened. This will allow you to measure the existing clasp to determine which size extender you need.
Open the watch band and lay it out flat on your work space.
Step 2
Now you will need to measure the existing clasp to determine which size extender you need to order. Position the watch band in front of you so you can measure the end that the clasp hooks onto. It will look like an open-ended link with a bar across the middle of the opening.
Take your digital gauge and line the backward opening jaws up inside the link so you can measure the length of the bar the clasp closes around. Open the jaws until they fit snugly inside the watch band link, measuring the full distance of bar.
Step 3
Use that inside measurement you found to order your bracelet extender. Be sure to order your extender in the color that will match your watch band.
For example: If you measured the bar at five millimeters, you will want to order an extender that is five millimeters wide. This will ensure that the hook end of the clasp will be wide enough to accommodate the slightly smaller width of the clasp itself.
Step 4
Once you have the bracelet extender, open it at the clasp end. Hold the extender and lift the watch band up so you can slip the clasp on the extender through the bar end of the band. Close the clasp on the extender and make sure it is secure.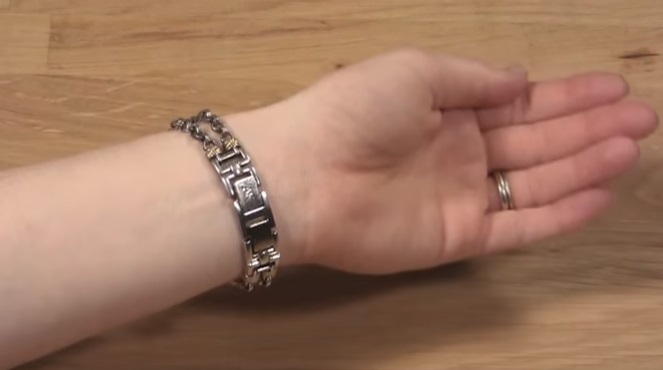 Finished
You are done! Once the watch band is securely back together you can continue wearing your watch again. Watch band extenders are a great alternative to replacement links as they are usually cheaper and easier to install. To learn more about watch band repair, check out our Learning Center.
---