Have you ever wanted to know what size your fingers really are? Whether you are planning a getting a new ring or resizing a ring you already have to fit a different finger you'll need to know what size your finger is first. Most jewelers can help you find your ring size, but you can also learn how to do-it-yourself here.
Remember that you should size each finger individually and not assume that both your index fingers are the same size. Always measure the finger you intend to wear your ring on before deciding on the size of ring to get.
Tools Needed
Step 1
Before you try to measure your finger for size, you need to take your environment into account. If it is particularly hot or humid your fingers will be a little swollen and larger than normal or if it is cold, you fingers will be smaller than normal. You should always try to size your fingers when they are comfortable – not warm or cold.
Be aware that when sizing your finger, if a ring doesn't fit over your knuckles with a minimal amount of effort, you should never force it. It could very easily get stuck on your finger if you do. With these things in mind, you can start the process of finding the right size ring.
Step 2
Sizing your finger is based around a system of guessing and checking, so start by taking your ring sizer set and finding the ring that is a size eight. Eight is the most common ring size, so you should start by trying to fit this ring onto your finger.

Step 3
If it is obviously too large, find the next size ring down and continue trying smaller ring sizes on until you find one that feels like it fits.
OR
If the size eight ring is obviously too small and you cannot slide it all the way down your finger, try on the next size up and continue that process until you find one that feels like it fits.
Step 4
Once you've found a ring that feels like it might fit, you'll want to judge that feeling by this definition: "the ring sizer that fits should slide over the knuckle with a little friction and sit comfortably on the finger." You want the ring to slide over your knuckle with a little difficulty so you that it won't fly off your finger, but you don't want it to cut off your circulation either.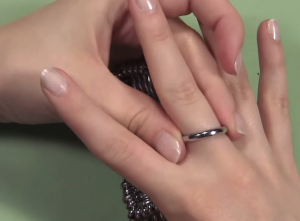 If the ring size you thought was right before doesn't match this scenario try on the ring sizer that is just a little bigger or smaller depending on how it fit until you find the size that feels comfortable but won't fly off your hand.
Finished!
Once you know what size ring you need, you can buy that new ring or get or old ring resized. For more helpful tips on sizing your fingers, check out this guide of Tips for Measuring for Ring Size.
---