Watches are available in a large variety of sizes and the size of a watch can make a big difference to its overall look and feel. Now that more and more people are buying online, its important to know your wrist size so you can find the right size watch. Here are some things to keep in mind when buying a watch, in-store or online.

Case Size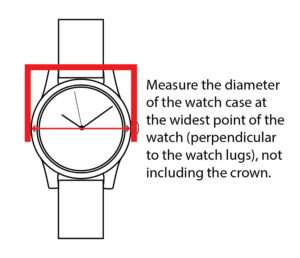 The watch case is the part of the watch that houses the dial, battery, movement and other working parts. Watch case diameter is the most significant and noticeable element when it comes to selecting the right watch. So, it's good to buy the size that's right for you.
Tastes have changed over time and nowadays people are trending towards larger cases. Men's watches usually range between 38mm to 46mm; although if you're looking at a vintage timepiece 34-36mm were common sizes for men and are still a classic size today. Anything smaller than 38mm today is typically seen on women's watches.
Generally watch sizes breakdown like this:
Less than 34mm – Small
34mm – 38mm – Midsize
39mm – 42mm – Standard
43mm – 46mm – XL/Oversize
Larger than 47mm – XXL
We have made a quick guide to show the range of sizes in watch cases that you can print out and visually see what size might be best for you. Included is a ruler you can cut out to measure the size of your wrist, so you can have that handy when shopping for a watch strap.
For a PDF file of watch case sizes you can print out to see what size you would like best, click here.
Lugs
Watch lugs are the metal extensions where the bracelet or strap attaches to the watch case. Lugs are not included in case size measurements. So when measuring your wrist for case diameter size, leave some room for the lugs. A good indication of whether a watch is too big is to look at the lugs. If they extend past the curve of your wrist, then the watch does not fit right and could be uncomfortable to wear.
Case Thickness
For many years, a thinner watch was considered higher quality and more refined. Now that watches are becoming larger and the case diameter increases so too does the case thickness. Many watches can be too bulky, heavy and thick so you want to consider the thickness of the case when deciding on a watch. Watch thickness is important for practical purposes as well. For example, If you wear a suit you'll want to think about whether you need a watch to fit under your sleeve cuff. Factor in the clothes that you would most typically wear with your watch and decide if a bigger watch will look good.
Often times, 38 mm to 42 mm watch diameters will see thickness of around 7 mm and for watches over 44 mm, the thickness increases to around 9 mm. The thickness of the case will usually be a good fit if you choose the right case diameter.
Watch Straps and Bracelets
Sizing a watch to fit appropriately isn't much of a concern unless you have a very large wrist. Most women's watches are between 6.75″-7″ and most men's watches are 7.5″-8″. The length of the strap is based on wrist circumference and can be divided in two – the tail (long) end and the buckle (short) end. That's why the strap length on watch straps is sometimes presented as 120/70mm. The first number (120) is the length of the long end in millimeters while the second number (70) is the buckle end in millimeters. When deciding on band length, measure your wrist and subtract the watch case size from the wrist length to get your watch band length size. Learn how to measure a leather watch band.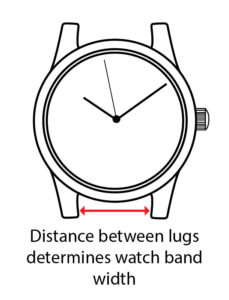 Leather, nylon, or any other non-metal band can be adjusted for length right when you wear the watch by cinching to the most comfortable pre-made hole. Metal bracelets can be adjusted for length by removing or adding links. You can take your watch to a jeweler or watchmaker to do this or use this guide to learn to remove links yourself.
The band width of your watch is determined by the distance between the lugs of your watch case. Watches with smaller band widths are typically good for those with slender wrists and for women. People with larger wrists (or men) are better suited to wear watches with wider bands.
Watch Components
Everything from the numbers, the hands, lug size, to the pusher and crown all play a factor in the look of a watch and whether it is in the right proportion. If these details are larger in size, the watch may appear larger as well. All of these components should compliment the other elements of the watch so that the overall watch appearance is balanced and pleasing to the eye.
Final Word
When buying a watch, the "correct" size really just comes down to personal preference and what you like best and feels most comfortable.