WATCH BAND REPLACEMENT AND REPAIR GUIDE
There are many reasons that a watch band might need to be replaced or repaired and a variety of options for repairing and replacing them. For example the reasons might be personal taste (a new watch band can give a watch an updated appearance and add a new style to a timepiece) or maybe your band is just beat up or broken (Sometimes watch bands in this condition can be repaired). Use this guide and the attached articles to learn the many different ways to repair, replace or adjust your watch bands.
There are many types of watch bands that might be designed to fit a specific watch styles, and depending on the type of watch, a band may have to be selected that is specifically designed to fit that model. Luckily for you, our selection of watch bands covers a wide spectrum of options when it is time to consider getting new band.
Measuring a Watch Band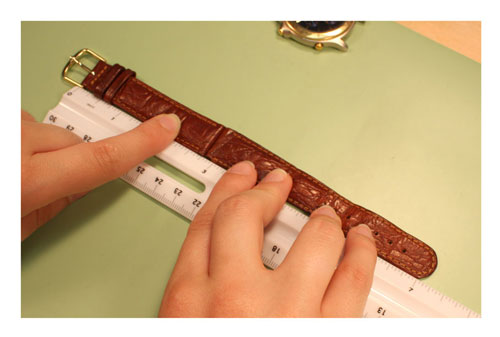 The most important thing to remember with watch bands is measurement. Whether you are adjusting, replacing or repairing a band in any watch you should always know what size it is, particularly when it comes to the width of the watch band. To ensure that you always have the most accurate measurement of your watch band, check out our articles on How to Measure a Watch Band.
When measuring the size of the band use a millimeter gauge to get the distance between the lugs on the watch case. This measurement can range from 6 millimeters to a whopping 28 or more millimeters wide. Other measurements and parts to identify might be the end piece which comes in curved end or straight end and the type of clasp.
Changing a Watch Band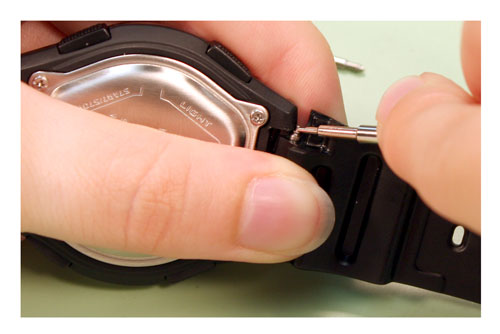 One of the most common questions we get is: "Can I change the style of my watchband?" And the answer is yes: you can put almost any style watch band on your watch as long as the band is the right width.
We have compiled an impressive collection of information on changing watch bands so whether you just want to replace your existing watch band with the same style, or you really want to completely switch styles, you'll have the information you need to get the job done right. To explore our information on How to Change a Watch Band, follow this link.
How to Change a Leather Watch Band
How to Change a Metal Watch Band
How to Change a Rubber Watch Band
How to Change a Velcro and Nylon Sport Watch Band
How to Change a Nylon Watch Band
Adjusting the Size of a Watch Band
Did you know that most watch bands comes in just a few different sizes? It's true: if you need a watch band that is six inches long, chances are that the you'll have to get a watch band that is at least seven inches long. However, you can adjust any watch band to make it smaller, and some you can even adjust to make bigger as well. To learn all the tricks to adjusting your watch band visit the How to Adjust the Size of a Watch Band page.
How to remove cotter pin band links
How to remove t-bar style band links
How to remove watch band screw links
How to remove pin and double sleeve style band links
How to remove u-clip style expansion band links
How to remove spring bar style band links
How to remove plate pin style expansion band links
How to make a mesh style metal watch band shorter
Repairing a Watch Band
But you don't always have to replace your watch band: some problems you may encounter are just as easy to fix as they are to ignore. The longer you own your leather watch band, the more you'll start to notice it having problems and giving out in places.
There are two common problems with leather watch bands and quick and easy ways to fix them. Many watch bands, particularly those that have stitching, are often made of two pieces of leather that are glued together first. If they start to come apart, you can learn How to Repair a Leather Watch Band by Re-Gluing.
You also may come across a watch that is wearing or stretching out, but you can very easily fix it to make sure your watch continues to fit by punching a new hole in the watch band to hook the buckle through and make it fit again. This is also useful if you change the watch band clasp and the buckle won't fit through the existing hole. Learn How to Shorten a Leather Watch Band here.
Advice from a Watchmaker
As with everything, you will encounter all kinds of bands including many not described in our articles. Others include some with beads, some with stones, some held by an elastic band, some with O rings or magnetic. Whatever the material is and whatever the design is, there is always a way to size or fix it, but remember that if you don't feel comfortable doing anything you see here, seek out a professional to do the job. This is especially important for high end watches and watches made of gold or silver.